CONGRATULATIONS TO OUR NEWEST MEMBER!
JETHRO D. GUNN, NSLS #696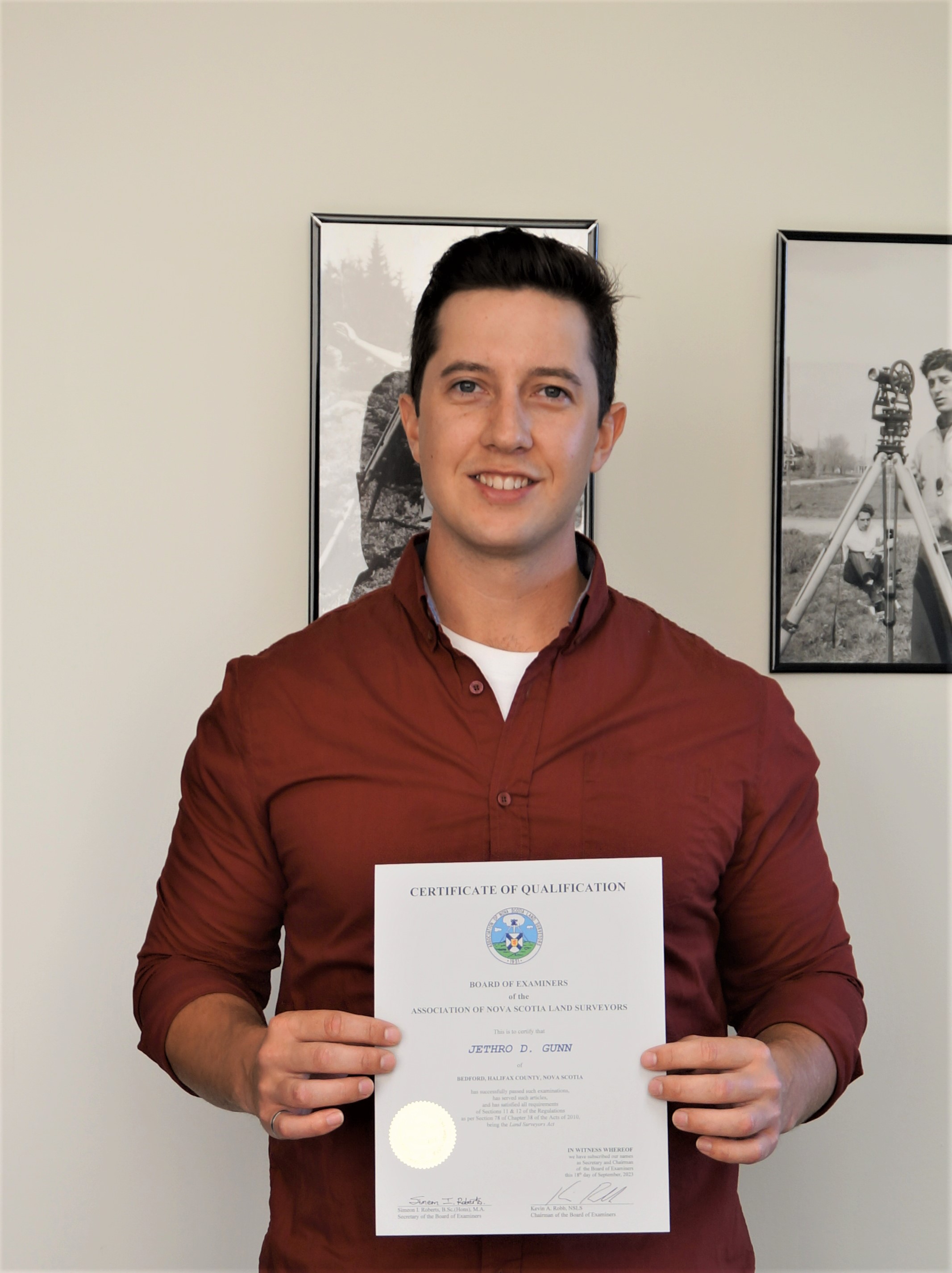 Jethro grew up in Scotsburn, Pictou County, Nova Scotia. He graduated from high school in 2014, and developed an interest in surveying while looking into post-secondary education options that provided opportunities to work outdoors. Jethro completed the survey technician program at COGS (2015-2016), and then decided he would like to move to UNB right away, as he was certain at this point that he'd like to become a licensed land surveyor. Jethro graduated from UNB's Geodesy and Geomatics Engineering program in 2021.
Jethro's surveying experience has been with Dexter Construction in Antigonish, NS, DNR in MacLellans Brook, in Northern Ontario, and with his present employer DesignPoint Engineering & Surveying Ltd. in Bedford.
Jethro joined DesignPoint in 2020 and articled under Luke Sarginson, NSLS #675. He moved to Bedford with his partner Lindsay where they now reside.
Jethro is happy to be a member of this association and look forward to what is to come throughout his career.
OPTIONS AND OPPORTUNITIES PROGRAM
Are you looking for an opportunity to educate the public on the importance of Professional Land Surveying while helping to develop a young person's potential interest in our profession?
There is a Nova Scotia Public School Program called Options and Opportunities (O2) that can facilitate both.
Students in grades 10 to 12 enroll in the O2 program, in addition to their regular studies.
In order to graduate from this program, the student needs to successfully complete a few different work term placements with an employer.
The local school administrator attempts to match the student/employer according to the student's interests and the employer's willingness and availability.
How can you become involved as an employer? Contact info for the community consultant for each regional centre of education can be found here.
You can reach out to the community consultant to find a teacher that administers the program at your local high school and let them know you are interested in being part of this program.
Good luck in finding and growing the next generation of geomatics professionals in your area.
Halifax GoGeomatics Canada Social

GoGeomatics Canada is very excited to bring our socials out East!
We meet from time to to time talk about jobs and business opportunities in Nova Scotia. As well we all just love to talk surveying, GIS and remote sensing. It's a informal get together where we have a pint and network.

Anyone interested in attending these "meet ups", click here to become a member.